Brano da concerto per corno e pianoforte, di carattere evocativo.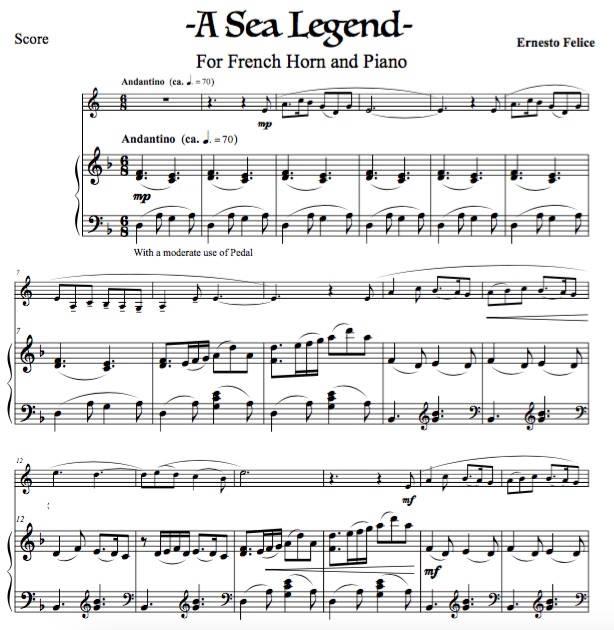 A Sea Legend for French Horn and Piano
A Sea Legend, by Ernesto Felice, Download PDF French Horn and Piano Parts. The PDF will be stamped with your name, email and address. For Paper Copies ask@happymusic.ch
Il brano comincia con un'introduzione lenta su ritmo di siciliana, per poi introdurre il tema principale, squillante e veloce in 6/8, che viene proposto in un fugato a tre voci. Dopo un breve sviluppo arriva un secondo tema cantabile che conduce ad una breve cadenza. Segue un episodio misterioso composto da veloci arpeggi del pianoforte accompagnati da note gravi e tenute del corno. La nebbia sfuma e riappare il tema principale, riproposto in forma di fugato, ma sovrapposto al tema introduttivo. Uno sviluppo più articolato del primo porta al secondo tema cantabile che sfocia in una breve ripresa dell'introduzione e in un veloce finale.
I temi e le sezioni formali rappresentano i personaggi e gli avvenimenti di un'antica leggenda tramandata a voce, e la musica ne trasmette senso e sensazioni.
Qui la versione registrata da Davide Citera e Roberto Holzer nel loro CD Meeting Rivers