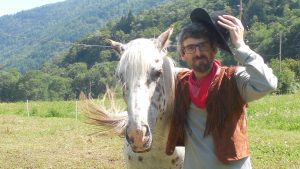 Billy Bluemoon et le phonographe volé est une histoire musicale pour narrateur et ensemble 
variable,quatre voix et percussion, piano au libitum. Editions Difem (www.difem.ch)
Morceaux et trame
1.Ouverture – La musique emporte les spectateurs au vieux west.
2.Coming Back Home – Billy Bluemoon rentre chez soi après avoir pris un dangereux bandit. Il a un cadeau pour sa fiancée.
3.Ballad of the Good Bounty Hunter – Tout le village fête trionphalement l'exploit de Billy.
4.Waltz in the Moonlight – Seulement plus tard Billy reste seul avec sa fiancée Rosy.
5.Furtive Nocturne – pendant la nuit on vole le cadeau de Billy pour Rosy.
6.The Ride – Billy part à la chasse du voleur, mais au village:
7.Funeral March – on croit que Billy est désormais mort, parce qu'il s'est dirigé vers un territoire prohibit.
8.Indian Dance – Billy est capturé par les Indiens qui le soumettent au verdict de la danse de la vérité: Billy est un ami et il mérite d'être aidé à trouver le coupable.
9.The Ride – Billy rentre au village
10.Trap Boogie – le piège musical des Indien est mis en fonction
11.Regrets Beguine – et le coupable est capturé
12.Wedding Polka – Billy peut donner son cadeau à Rosy et lui demander de se marier.