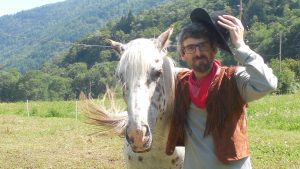 Billy Bluemoon e il grammofono rubato è un racconto musicale per narratore e ensemble astrumentazione variabile, quattro voci e percussioni, pianoforte ad lib., pubblicato da Difem (www.difem.ch)
Il testo è pubblicato anche nella raccolta
"Billy Bluemoon, quattro racconti musicali"
disponibile su Amazon

Brani e trama
1.Ouverture – La musica trasporta gli spettatori nel lontano west.
2.Coming Back Home – Billy Bluemoon cavalca verso casa dopo aver catturato un pericoloso bandito. Ha un regalo per la sua fidanzata.
3.Ballad of the Good Bounty Hunter – al suo arrivo viene accolto trionfalmente e si festeggia la sua impresa.
4.Waltz in the Moonlight – Solo più tardi Billy riesce a restare da solo con la fidanzata Rosy
5.Furtive Nocturne – nella notte qualcuno ruba a Billy il regalo per Rosy
6.The Ride – Billy cavalca all'inseguimento del ladro, mentre al villaggio:
7.Funeral March – si pensa che Billy sia ormai morto, perché si è diretto verso un territorio proibito.
8.Indian Dance – Billy viene catturato dagli indiani sottoposto alla danza della verità: Billy si salva e gli indiani gli indicano il modo di scoprire il vero colpevole.
9.The Ride – Billiy ritorna al villaggio.
10.Trap Boogie – scatta la trappola musicale.
11.Regrets Beguine – e il colpevole viene arrestato.
12.Wedding Polka – Billy consegna finalmente il regalo e chiede a Rosy di sposarlo.